In honor of finishing reading another decade's worth of Newbery winners, and due to the generosity of Barry Lyga, I have a free signed copy of
Hero-Type
by Barry Lyga to give away.
Here's the deal: To enter the drawing to win, just comment (and "Like" if you haven't already) on my Facebook page (From Cover to Cover with Eti) and write down the name of your favorite hero (super or otherwise) and why he/she deserves that title. If I pull your name from my metaphorical hat, I will mail you Hero-Type for
FREE
.
Here's a little information about Hero-Type to whet your appetite. Believe me, it will blow-your-mind.
Hero-Type
Maybe it's courage, the kind Kevin Ross (Kross to his friends) showed when he saved Leah Muldoon's life.
Maybe it's living with your own guilt so someone else doesn't have to...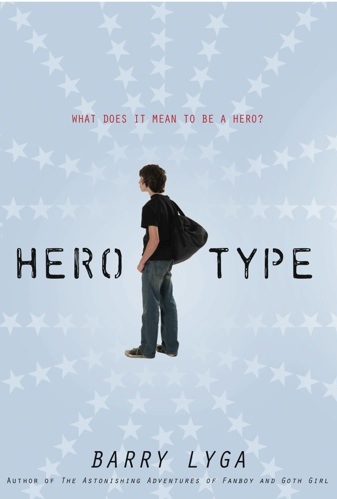 Maybe it's the way Kross was in the right place at the right time...
Or the way he wouldn't back down when everything that mattered to him was called into question.
Maybe it's keeping your friends close--like the Council of Fools, a motley collection of goofballs and whacked-out teenage jesters--even when they don't really understand you.
Or maybe it's striving to do the right thing...
Or figure out what the right thing is in the first place.
Maybe it's trying to figure out how to live with a father who barely speaks, a father who guards a dark secret from his past.
Maybe it's all of this.
Or
none
of this.
Kross saved someone's life. Maybe that's enough to make him a hero, regardless of his
own
terrible secret.
Then again...
Maybe not.
You can download Chapter 1 from http://barrylyga.com/new/hero-type.html.
While you're there, check out the rest of Barry Lyga's books, including his newest book,
Goth Girl Rising.